Disclosure: This post is sponsored by The New Orleans Marriott Warehouse Arts, however, all opinions are my own.
When looking for a place to stay in New Orleans, there is no shortage of options. While most immediately thing of hotels in the busy French quarter, I'm here to ask you to take a step back and look at some other options that are nearby but possibly overlooked.
Bobby and I had the opportunity to stay at the newly remodeled New Orleans Marriot Warehouse Arts hotel, and it was gorgeous and we had the best time! I highly recommend staying here for many reasons, but I will just name a few here.
1.) Location:
We loved feeling like we were close to the action but far enough away to sleep in peace and quiet. We walked from our hotel to the French Quarter for shopping and dining, and it also gave us a chance to explore the warehouse/arts district. It's a fun funky neighborhood next to the French Quarter with a lot to offer by itself. We were literally directly across the street from the convention center and the Riverwalk mall. Talk about prime location! We were nearby places like the WWII Museum, Mardi Gras World, Fulton Street Square, and the Contemporary Arts Center.
2.) Beautiful meeting spaces:
I was so impressed when I saw how any meeting and event spaces there were at the hotel! If you are in need of a space for a wedding, conference, business meeting, etc. this is the place to be.
All the spaces were beautifully appointed, with tall ceilings and gorgeous lighting. Made me want to go to a party! How perfect to stay in a gorgeous hotel with a meeting space just downstairs. Amazing!
3.) Spacious upscale rooms:
We were blown away by how nice our room was. We were in a junior king suite that had a separate bedroom with king bed, and a living room with pull out sofa bed, and table and chairs. The colors are modern and beautiful, and the bathroom was nice and bright. We had sweeping views of the city and the river, and felt right at home.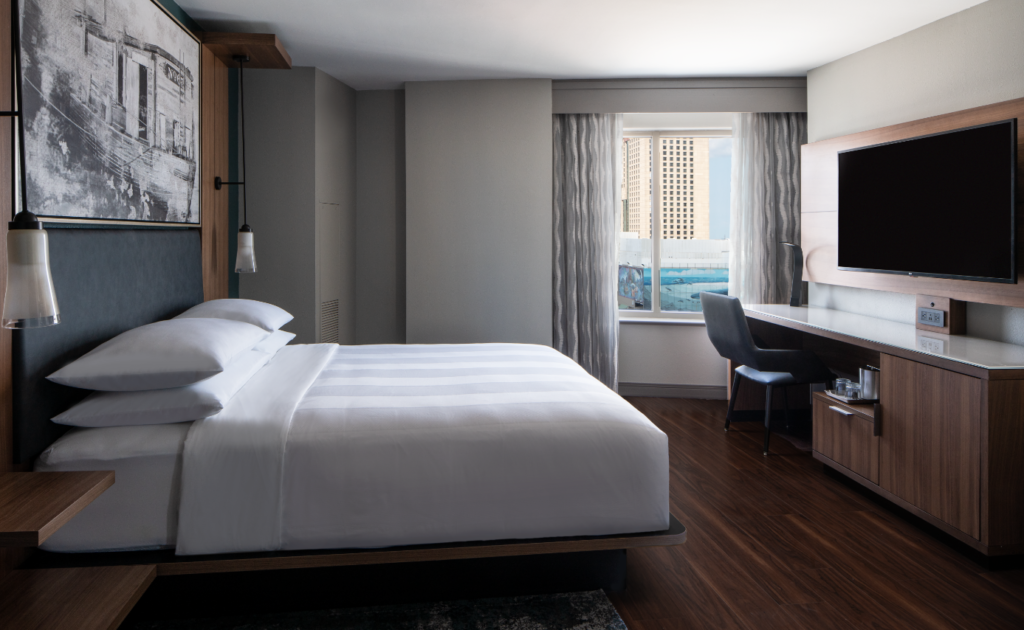 Don't need a suite? Don't worry, they have standard rooms available, and I did get to take a peek at one of the presidential suites!
4.) M Club:
The M club is something I was not familiar with, but I instantly fell in love when I learned about it! it's for Marriott travelers who have a select "level" like platinum elite or ambassador elite.
The use of the lounge can also be purchased at the hotel. It includes breakfast, light snacks, and hors D'oerves in the evening. The one at the New Orleans location is gorgeous and will be such a fun place to just hang out and relax.
There are tons of places to plug in your devices, too. I checked!
5.) Warm and inviting lobby and bar spaces:
One of the concepts for the remodel was a very open and inviting "living room" feel to the lobby. There were several sets of chairs sprinkled throughout, with a bar in the middle, all open right from the check in counter. On the back side of the bar were tables and chairs as the bar will be serving small plates as well when it opens soon!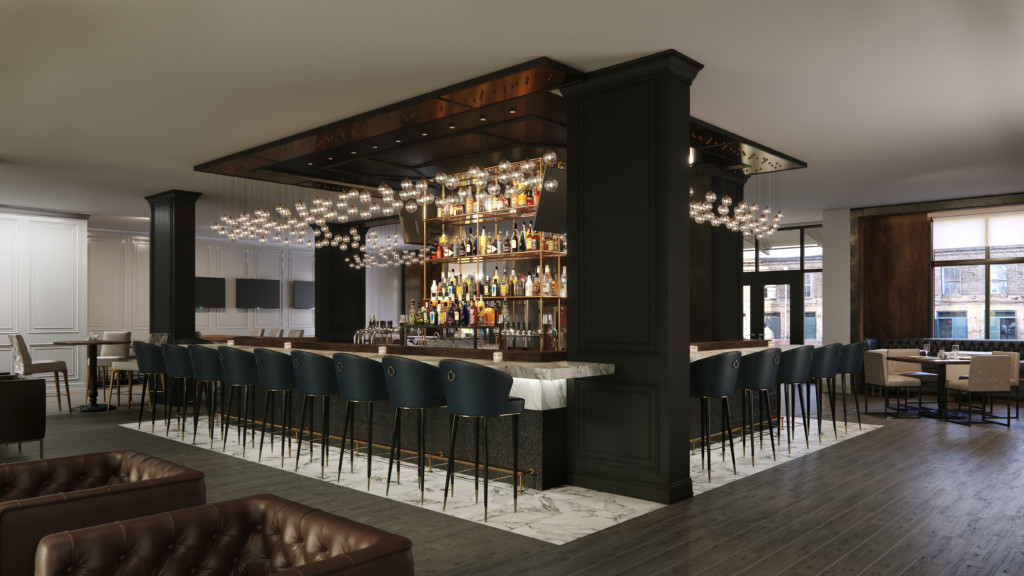 It was so cozy and inviting I just wanted to sit down and hang out there! There is also a Starbucks right off the lobby that will be opening soon. Ok, I may never leave! I hope you will consider New Orleans Marriot Warehouse arts hotel on your next trip to the big easy.
Want to see more photos and videos from the hotel? Visit the NOLA highlight on my Instagram profile!
Related: Weekend in New Orleans, February 2019