Disclosure: This post is sponsored by Reunion Resort, however, all opinions are my own.
When I think about going on vacation in the Orlando area, I think of staying in a hotel, or sometimes maybe a condo. It hasn't really crossed my mind often to stay in a vacation home, but this trip may have changed my mind!
I had heard of Reunion Resort but didn't know much about it. In case you were wondering, it's huge (spans both sides of the interstate! Don't worry, there is a bridge to go over it!) There are small homes, large homes, HUGE homes, condos, a playground, mini golf, tennis, pickle ball, a fitness center, plenty of pools, and even a water park! It is spread out, but no worries if you don't have a car, you can rent a golf cart during your stay!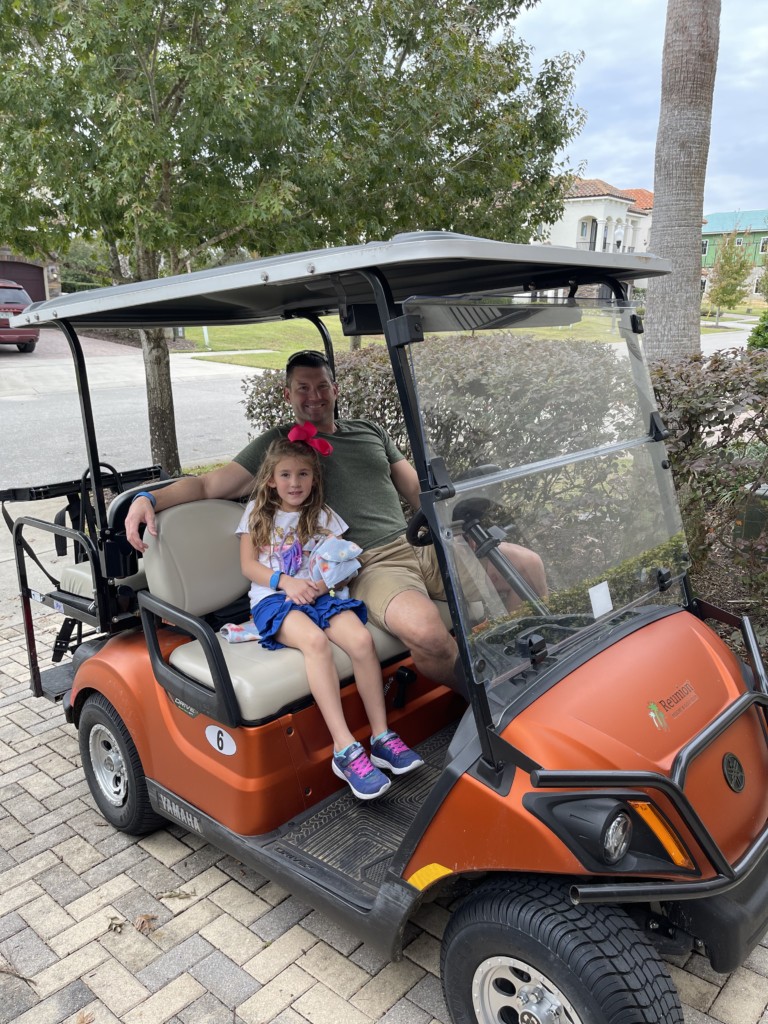 We stayed in a beautiful 5 bedroom vacation home with a pool, hot tub, and golf course views…and the cost is cheaper than it costs to stay in some Deluxe resorts on Disney property. I was FLOORED.
Our particular home had a game room, surround sound, an outdoor grill, several very nice TV's, and all the comforts of home like dishes, a washer and dryer, and PLENTY of room to spread out.
There was even a cute upstairs balcony off the master bedroom. So peaceful and quiet as well!
We spent a LOT of time out back at the pool, and in the game room (they converted the garage). Emma Kate was in heaven and literally cried when we had to leave. Bless her. She gets it from her mama.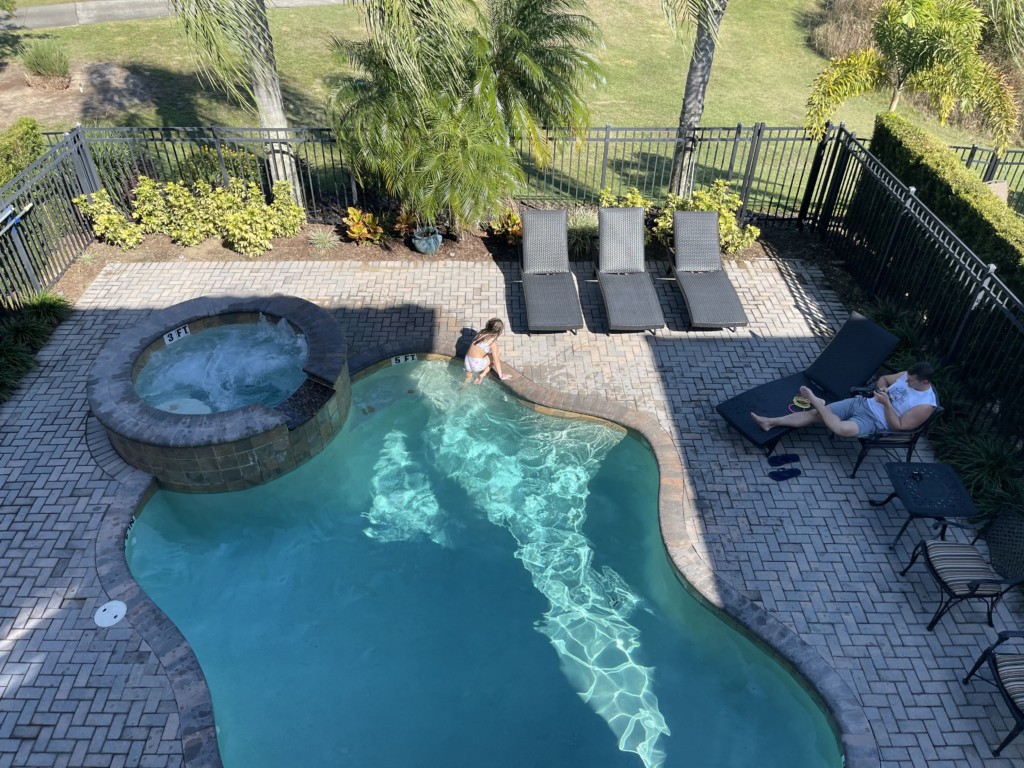 The great thing about Florida is there are very few days where it is too cold to swim! It made me want a backyard pool so badly!
We played pool, foosball, Xbox, and just hung out in the game room.
Check in was a breeze. They have a gated entrance manned by friendly staff who directed us to the check in building. We signed a few forms, were given our room keys and golf cart, and off we went!
This was a great hide and seek house. So. much. space. Could easily fit multiple families traveling together to make it even more budget friendly!
Emma Kate's favorite room? Well, that's an easy one. She slept in this adorable Frozen room and totally geeked out over it. I will admit, I kinda wanted to sleep in there, too!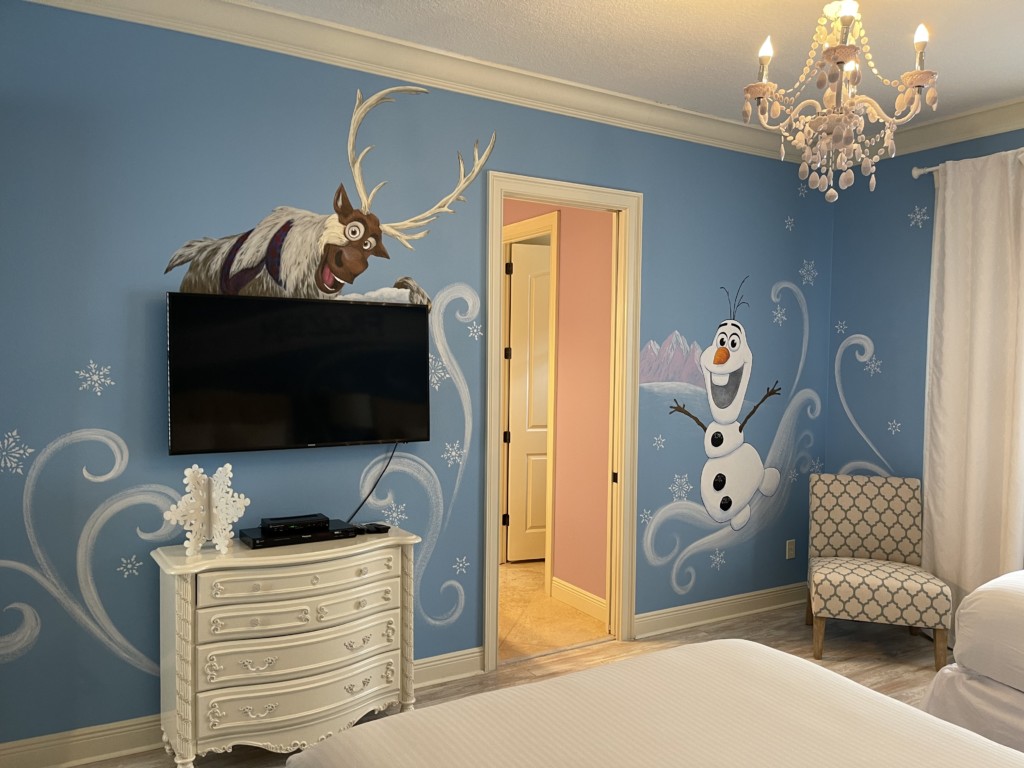 There are also plenty of places to eat at Reunion Resort.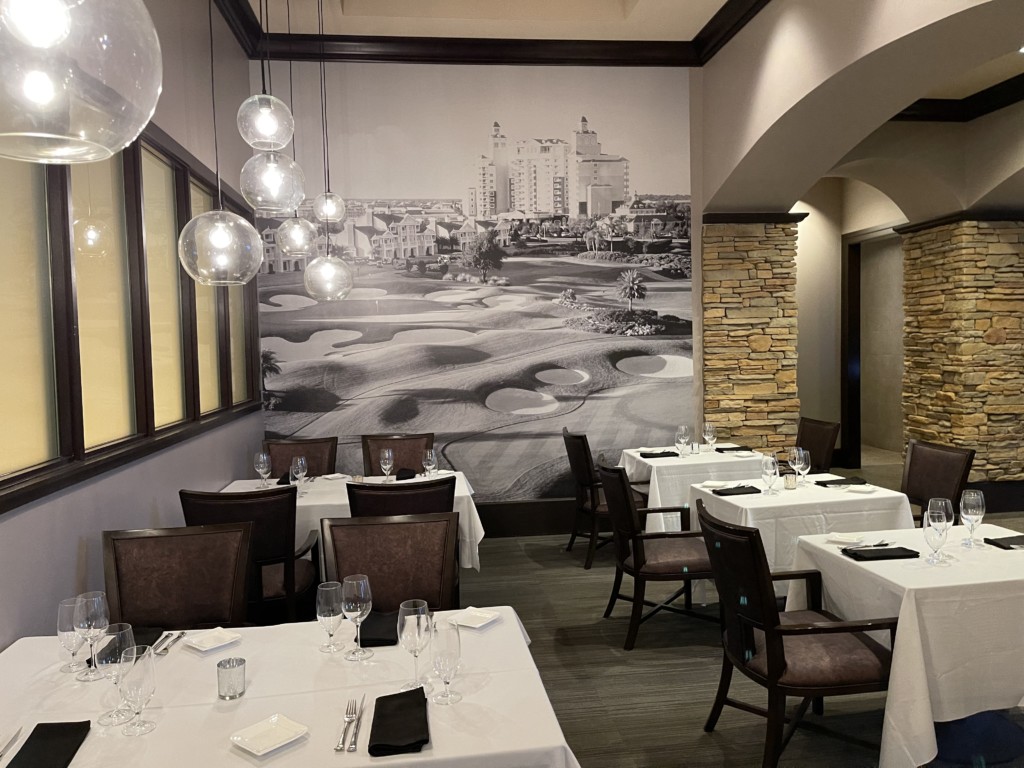 We had the opportunity to dine at 7593 Chophouse, and it was delicious!
Service was amazing as well, and we actually got to test out a brand new menu! There are more casual options of course, as well as a grill and pool bar at the waterpark.
Speaking of waterpark…we went twice! Emma Kate loved the lazy river and waterslides!
I loved the tropical drinks!
They have a kids area with water slides, a lazy river with larger waterslide, a pool with zero entry, as well as life size games of things like Connect Four and Jenga. I also saw a sand volleyball court! We rode our golf cart here, it was just a couple minutes from the house.
We also enjoyed the pool in our own yard, it was so nice to not have to pack everything up and go somewhere else and just jump in!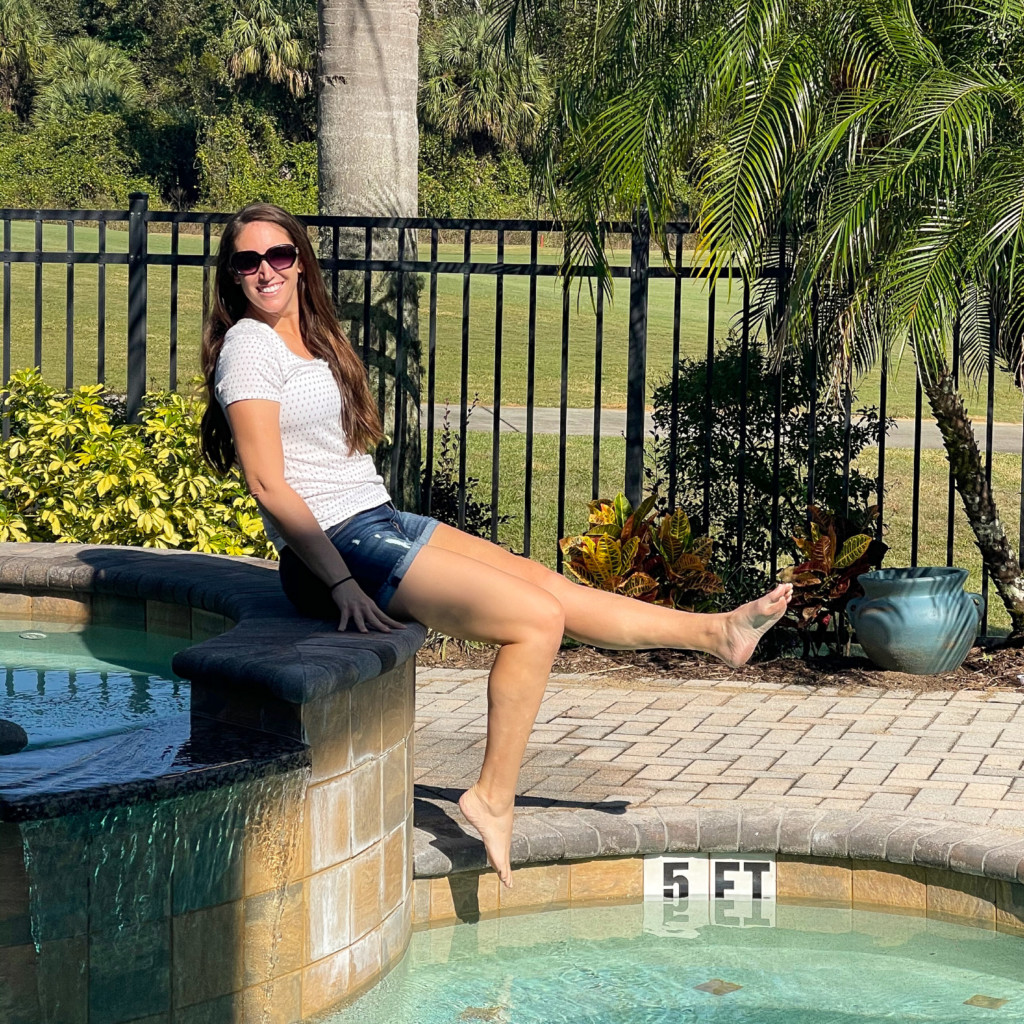 We were only at Reunion Resort for two days, so we didn't get to explore as much as we wanted to, but hopefully we will be able to go back soon! I highly recommend checking into the vacation rentals they have available. They have a great search filter so you can search by number of bedrooms, dates, etc. Go check out the beautiful homes and start planning your next trip!
To see more photos and videos of our trip, check out this IG story highlight!
Related: Reasons to stay at Dollywood's DreamMore Resort