I have been asked by several people which runDisney race is my favorite. This is SUCH a hard question to answer because I love them all for different reasons.
In this post, I will attempt to break down things I love and don't love so much about each race in an attempt to help you figure out which race you want to sign up for! The races I will be comparing are:
Marathon weekend
Princess weekend
Disneyland weekend
Tower of Terror weekend
Wine and Dine weekend
*I have not participated in Tinkerbell or the Expedition Everest 5k, so those will be left out. I am running Tink in January and will give my thoughts at that time.
Marathon Weekend: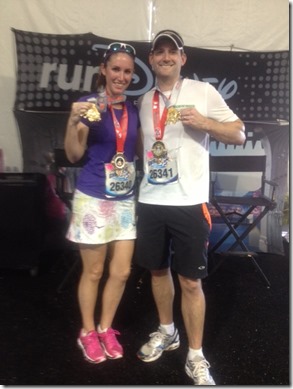 I have participated in marathon weekend 3 times. In 2010 I ran the half, in 2011 I ran the full, and in 2013 I ran Goofy's challenge. runDisney races hold a special place in my heart since they were my first half and full marathon, and marathon weekend in particular was my first runDisney race.
Pros: Big crowds equal lots of friends, runners and excitement! Several distance options are available for every level (5k, 10k, half, full, goofy and dopey). This weekend seems to be talked about and advertised most/made a big deal. The weather is usually mild in January, although there have been some very warm and very cold runs. It's also a great time of year to visit Disney. Other than the weekend itself, there are lower crowds, and good weather for park-going. Also, it's in value season so you can get a cheaper price for rooms on property. It's also something to look forward to after Christmas, and for southerners, it's nice to train for a race in October/November/December in cooler weather.  Of course there is great bling.
Cons: It is such a big race, the weekend itself is very crowded at the parks and the expo. Some people would rather run the smaller races with less corrals and hoopla. Also, Northerners may not want to run long runs in November/December in the freezing cold to prepare for this one.
Princess Weekend:
I have participated in Princess weekend twice. In 2012 I ran the 5k and the half, and in 2013 I did the same.
Pros: For us women folk, this is a super fun race to do with your mom, daughter, or a group of girlfriends. Bling and tiaras everywhere, and lots of people dressing up as princesses! There is a "girls just wanna have fun" excitement about this race that just makes me smile. The medal is always adorable, and this race seems to be a less pressure sort of race, and I am not even sure how else to explain it. This time of year usually has great weather as well for running and park hopping. Lots of good 'ole girly-girl fun with this race, a great weekend for first timers.
Cons: This race is during peak season pricing, so hotels are more expensive. If you are a guy, you may want to sit this one out unless you like all the attention.
Depending on where you live, training in the cold may not be so fun.
Disneyland Weekend:
I have done this one twice as well. In 2012 I did the half, and in 2013 I participated in the Dumbo Double Dare challenge.
Pros: I think my favorite thing about this race is the proximity to the starting line. If you stay on property, you can walk to the race which is a huge plus and allows you to sleep in a few extra minutes in the morning. For southerners that bathe in humidity nine months out of the year, the less humid temps are a welcome change. This race also takes place over Labor day weekend, so you may not have to use as much vacation time. This weekend also has a 5k, 10k, and half…so again, options for people wanting to run all distances.
Cons: For someone from the other side of the country like me, it is expensive to pay for the race, hotel, park tickets, and flights to California. It can also be very warm out and makes the race and park going not quite as enjoyable. For southerners, it's not fun at all to train for this August race in June and July outside in the heat.
Tower of Terror Weekend:
I participated in Tower weekend this year, 2013
Pros: This race takes place at night so it's not as hot as if it were to take place these same dates during the day. It has a 5k and a ten miler, so is a good option for those who have done a 10k but are not quite ready to jump to a half marathon. This race has the coolest medal, it's definitely a favorite (glow in the dark with moving elevator…way cool). Since it is a night race, no waking up at 2:45 in the morning to catch a bus to the start. If you stay at a Boardwalk area hotel, you can walk to the start and back to your room from the finish. This is a smaller weekend so the race itself and the expo are not as crowded There is a finish line party in Hollywood Studios right after the race, too so you can party until 4:00 am!
Cons: If you don't like staying up late, the 10:00 pm start time may be too much for you. It is a warmer time of year, so going to the parks during the day will be quite hot most of the time. If you are looking to run a half marathon and not a 10 miler, this race is obviously not for you. This race also does not run through the Magic Kingdom, but does run though the sports complex and Hollywood Studios.
Wine and Dine weekend:
I have participated three times. In 2011 I ran the 5k and the half, in 2012 and 2013 I ran just the half.
Pros: If you like food and wine, this is the race for you. Not only can you enjoy the Food and Wine Festival while you are in town, but there is a special after party at EPCOT for all the runners after the race where you can partake in foods from around the world. This race starts at the Wide World of Sports Complex, so no super long walk to the corrals like the morning races. It also has a 10:00 start, so again, no waking up really early to go run. The course is really fun and goes through three parks for the half marathon.  I also love running through the Osborne spectacle of lights, it's amazing. There is also a Christmas themed 5k held at Animal Kingdom. The time of year is a little on the warm side but since the race is at night it's not so bad. Christmas decorations start going up at the parks around this time, and you may also be able to catch resort decorations and Mickey's Very Merry Christmas Party.
Cons: What is a pro is also a con for some…starting a race at 10:00 pm is tough stuff! This race does not run through the Magic Kingdom which is always a favorite of mine, but very few cons for this race.
——————————-
As you can see, there are not many "cons" to each race, and they mainly have to do with factors like weather and hotel pricing. All of the runDisney races are amazing and you are sure to have a blast!
So, what is my favorite? This is HARD yall! Ok, let's do this. Favorite night race: Wine and Dine. Favorite day race: Princess. That's as close to a single favorite as I can give you, they are all so awesome.
Things to keep in mind: Many of the races sell out the day registration opens. Follow @runDisney on Twitter and check out the rundisney.com website so you can stay up to date on information like registration and capacities.
if you need help with anything runDisney related or just need help planning your vacation in general, I would love to assist you! Email me at heather@travelwiththemagic.com anytime.
QOTD: What is your favorite runDisney race, or which would you like to run?