On Saturday, Bobby and I took Emma Kate to Busch Gardens Tampa. It was our first experience in the park aside from seeing a small portion when we went for a media event a few weeks ago. I did a little bit of research to at least know what we did and didn't want to do, and we arrived at the park when it opened at 10:00 (which I thought was late!)
Getting on the tram at the parking lot was a little hectic as there was no one there to keep people in order, and there were no true "lines". We had a family try and push us out of the way to get on the tram (I was holding EK in my arms!) and I had to yell at a guy to let Bobby get on the tram with us b/c he had the stroller and people were pushing in front of him. However, I tried to shake it off and not let it ruin the day. The park can't control what other people do, and it wasn't their fault. We made it to the front, and bag check was smooth and quick.
I wanted Bobby to get to ride at least one roller coaster, so he jumped in line for Cheetah Hunt because it said there was only a ten minute wait. I took Emma Kate to go visit some animals while we waited.
After about 30 minutes I texted Bobby and he was still in line. I was not thrilled because Emma Kate was getting bored and wanted to go ride the train. We visited the giraffes which there was SO many of, very cool, and then waited some more.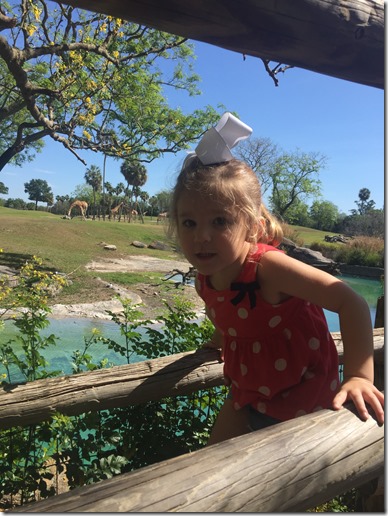 All in all he was gone a total of 45 minutes for a ten minute wait, so I'm not sure what happened there. Maybe it temporarily broke down and we didn't realize. Either way, nothing we could do to change it so we moved along and got in line for the train.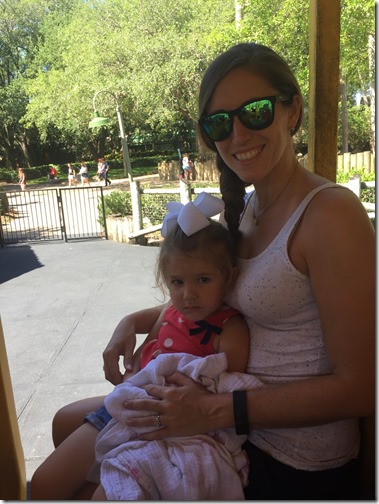 It was fun seeing the animals along the route. A very nice touch. We decided to get off at the next stop and go see the monkeys and the tigers. This guy was just sitting up at the glass staring at all the kids. Emma Kate kept saying she wanted to hold him, of course.
We also saw a couple of sleepy tigers. I loved all the lush landscaping in their habitats with multiple vantage points to view them from.
By this time it was after noon, and we were getting  hungry. We tried to get Emma Kate to nap in her stroller as we walked down towards the Food and Wine festival area.
I love how the booths are mainly contained to two areas so you don't have to walk all that far to get from one to another. Also, there were no long lines to wait in which was a plus.
We each had an 8 pack sampler card courtesy of Busch Gardens, and were ready to enjoy the festival. (These can be purchased at the booths, and also you can find festival guides at each booth with a map and list of all the food and drink offerings.)
First up, Bobby got the lamb chops and a mango margarita, which got two thumbs up.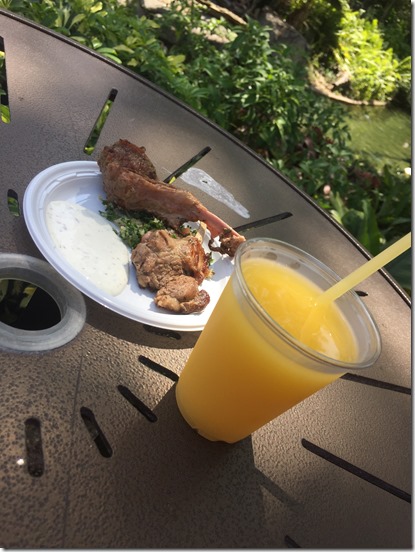 We then headed over towards the two Coke booths, which are next door to an inside air conditioned area with tables. We were happy to find this spot, as it was getting HOT outside. Bobby got a couple more things to eat and I got a pulled pork slider. After a brief rest, we headed over towards the concert area where there were a lot of other booths.
Bobby tried some ribs, and I got my favorite: the bacon mac and cheese, which was just as delicious as I remembered it. Emma Kate loved it, too and kept stealing my bacon.
We both also had watermelon margaritas, which would become our favorite drink of the festival. (I may have had three.) I may have also had a regular margarita on the rocks at the margarita bar while we were in this area.
Emma Kate had been dying to "see Elmo" in the kids area, so we went there next. This area was great. TONS to do for kids all confined to one very large space. She was so overwhelmed we weren't sure what to do first. She rode several rides, and even did a small "water ride" by herself!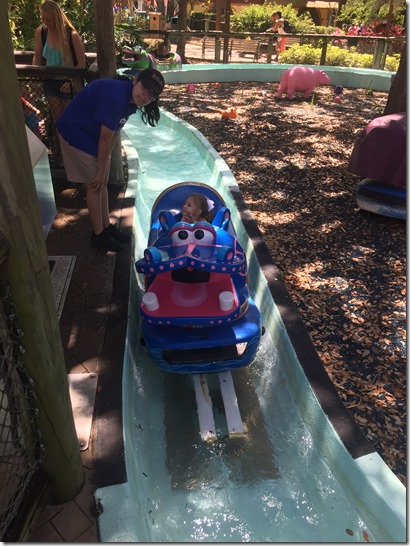 We put her in the bounce house because she LOVES those things, but there were a lot of big kids in there and she got upset and wanted to get out. We also did the carousel, and she climbed up in a large tree house area with Bobby.
Seriously we could have stayed in this area all day and Emma Kate would have been jjuussttt fine. There was also a huge really cool looking splash pad area, but we decided to skip that one for the day because it was already getting late in the day and we were all tired. We did however have one more stop to make, the show with Elmo and the gang! EK clapped and waved, and even got to touch Grover which I think made her whole day. This area was covered and had fans which was a very nice touch on such a sunny afternoon. There were also plenty of benches and other seating around the whole kids area for moms and dads to take a rest as the kids played.
We still had a couple of punches left on our food and wine cards, so Bobby got some steak and said it was his favorite dish of the day.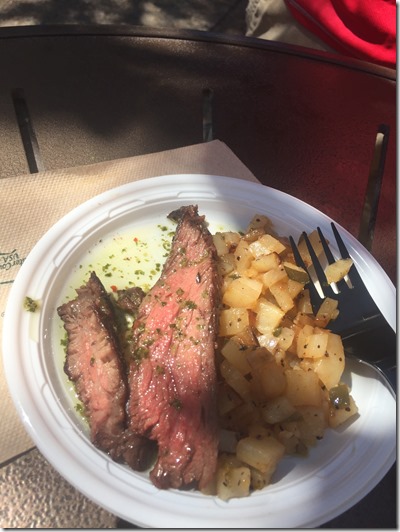 We met up with Megan and Gabe for a few minutes and chatted at a table and people watched before calling it a day. Check out the cool topiary in the background!
The park is really big, and there was no way we could have done everything in a day, which just means we will have to go back!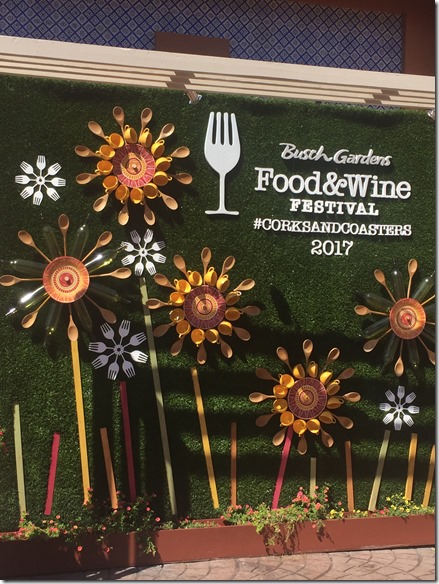 Not five minutes after leaving the park, this one fell asleep in the car. I think that's a sign of a good day!
A huge thanks to Busch Gardens for inviting us back to experience the park and the food and wine festival. Don't forget, you can experience it for yourself every weekend through the end of this month, and there is a free concert every night of the festival with your park admission! Check out BuschGardens.com for the lineup and information.
Disclosure: I was provided free park admission for two as well as lanyards to try out the food at the festival. However, I was not asked to write a blog post about it, but we had a great time and I wanted too! Also, all opinions are my own.
**I would love it if you would take a quick second to fill out a 6 question survey about how you plan Disney vacations. Thanks in advance!**