I waver back and forth with how I feel about New Year's Resolutions. On one hand, I think it's silly to wait until January to start something new or take control of your life. On the other hand, it is exciting to have a fresh start at the beginning of a new year, and to get hyped about doing things different this time around. I don't know, I guess it just depends on my mood! With that being said, I used to do monthly goals here on the blog, and while I'm not sure I will go back to that or not, I do have a few things I wanted to share with the interwebs because it holds me more accountable.
2014 brought a LOT of changes to the Montgomery household, and I am having to learn to do things a lot differently (and with one hand ha!) as a baby truly does change everything! Here are just a few things I would like to do in 2015. This is by no means a comprehensive list, but more of a reminder to get my rear in gear.
2015 Goals:
1.) Read my Bible every day: I was REALLY good about this for the past year or so, as it was the first thing I did when I woke up. Now I wake up to a screaming child and the first thing I do is make a bottle as fast as humanly possible. 'I'm thinking of switching it up and doing my devotions at night after the baby is in bed.
2.) PR in any race distance: I'm not being picky here. I have been out of the game for a long time not being able to run most of my pregnancy, so really I would be thrilled to PR in any distance!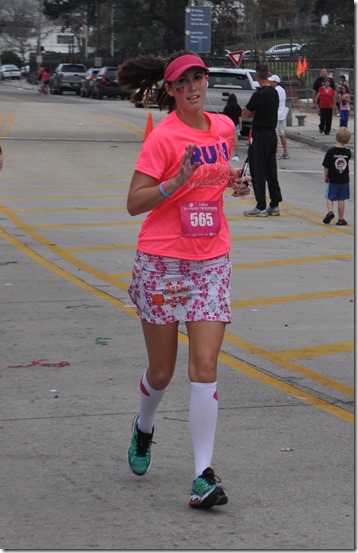 3.) Foam roll and stretch: As much as I hat to admit it, my IT band and bursitis pain are back, and I have got to keep it under control so I can keep running. If I remember to foam roll before AND after a run, it's much better, but it's a hard habit to get into, especially when free time is at a minimum.
4.) Find a good work/life balance: Something I have not done well since having Emma Kate is finding a good work/life balance. Before she was born, I was working 40-50 hours a week between my blog and travel agency work, and that just doesn't fly with a three month old at home all the time. It's very hard for me to admit that I just have to cute back on things and prioritize what is most important, and I still haven't found that balance yet.
5.) Eat more healthy foods: Not going to lie, when I was pregnant I pretty much ate whatever I could stomach. My appetite was VERY finicky my entire pregnancy, so I indulged and ate what I could and what I was craving. I was ok with it, I knew it wouldn't last forever and that I had a good excuse.
However, that time is over, and I am ready to get back to some healthier eating habits. I'm taking it one slow step at a time, because if I try to overhaul all at once, I know it won't stick.
QOTD: What is one goal you have for 2015?