We were provided with a free meal to sample Council Oak's new menu items as well as gift bags. However, all opinions are my own. 
On Bobby's birthday a couple of weeks ago, we were invited to taste test some of the new menu items at Hard Rock Tampa's Council Oak restaurant.
I had never had food from Council Oak, but heard so many good things that I couldn't wait to try it out!
They had a huge buffet of items to sample set out for us, as well as five new cocktails that were being added to their menu. I don't have photos of every menu item, but wanted to share some of our favorites from the night with you. Bobby loves seafood, so he was all over the calamari and lobster.
He also said the jumbo soft shell crab was excellent.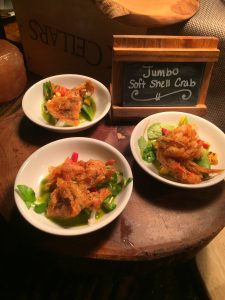 My favorite? By far, the ribeye. It was so tender and super juicy. I may or may not have had around six pieces of it! Normally I like my meat a little more cooked than this, but it tasted just right and had wonderful flavor. Highly recommended!
I think Bobby's favorite dish of the night was the yellowtail snapper. He went back for more several times, and said it was one of the best he has ever had.
For appetizers, I really enjoyed the cobb salad, which is saying a lot considering I don't eat a lot of salad. It had the perfect amount of crunch and great flavor without being too overwhelming.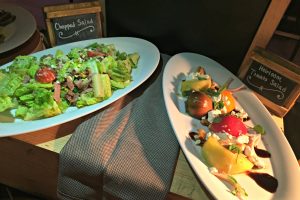 The highlight of the night were the cocktails. We tried four out of the five. They are listed on the menu board in the second picture below, in order from left to right. The rose mojito on the left was very cool because it had a big "ball" ice cube in it with a small rose frozen in the middle. So unique! It had a light refreshing flavor I really enjoyed. My favorite drink was the pillow talk (third from the left). If you like sweeter drinks, this one is for you. Bobby liked the margarita best. It isn't like your typical margarita, as it had a little bit of a spicy flavor to it instead of sweet. The raspberry drink was also good, but not as good to me as the pillow talk.
We finished off the night with a delicious baked Alaska dessert which was phenomenal. You can check out all the offerings and more photos on the Hard Rock blog.
Overall we had a great night listening to music, eating, and hanging out with friends, and it just happened to be on Bobby's birthday, so huge plus there. The Hard Rock did an excellent job coming up with this menu for Council Oak, and I think anyone who tries it out will be very pleased. Be sure to make your dinner reservations soon so you don't miss out on these menu items!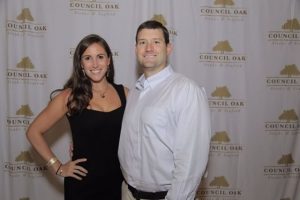 QOTD: What is your favorite summer alcoholic drink? Have you been to Council Oak?