IT band pain is a topic I am quite well versed in (unfortunately…) and so I wanted to share some of my favorite It band stretches. Here are six things I try to do several times a week.
My IT band is currently behaving, but that can change so quickly, so I choose to be proactive. I hope these IT band stretches help some of you who have been struggling!
IT Band Stretches:
Stretch 1: If your RIGHT IT band is the problem, stand with your right foot crossed behind your left and lean towards your left with either your arm in the air or your hands on your hips. Hold for 15-20 seconds, repeat. (follow this rule for all stretches mentioned)
Stretch 2: If your LEFT IT band is the problem, sit on the floor with your right leg straight. cross your left leg over your right, and twist your body to the left, pushing against your left leg for resistance.
Stretch 3: Yoga has really helped me, especially the pigeon pose. If your RIGHT IT band is bothering you, put your right leg underneath your body with your left leg out straight behind you. use your arms to balance, and try to sink down as far as you can. Hurts so good! (By the way, I am finally getting slightly visible triceps, which is hard for my long muscles, yay!)
RELATED: How KT Tape Gave Me Pain Free Running
Stretch 4: Find something sturdy you can lean against, and put your hands on it. if your RIGHT IT band is bothering you, use your left leg as the stabilizer leg, and slide your right leg out to the left behind your left leg, and push/sink as far as you can.
Stretch 5: This involves a Foam Roller
(and if you have IT band pain you DEFINITELY should own one of these anyway!) Lay your hip/leg on the side of the pain, put your other leg out in front to stabilize, and ROLL until you find a sore spot, then sit on that spot for several seconds.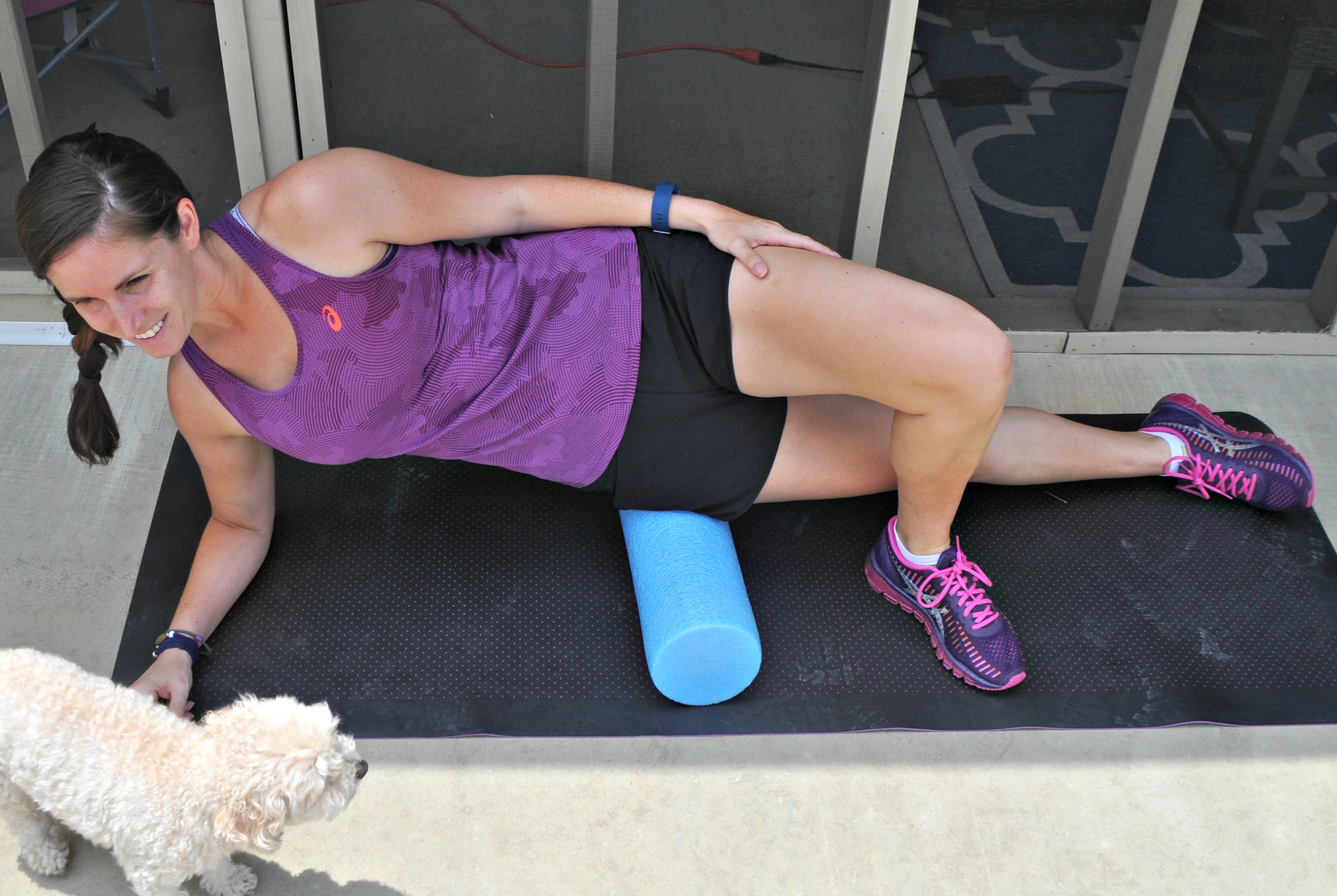 Stretch 6: Lay on the floor on your left side if your RIGHT IT band is bothering you. Put your right leg behind your body and hold your foot. Put your left foot/heel by your right knee, you should feel a deep stretch.
——————————–
A few key things to keep in mind if you are suffering with IT band pain and looking to do IT band stretches. (This is based on my own personal experience, if you are having pain go see a doctor, physical therapist, chiropractor, etc.)
1.) REST. I took 6 full weeks off of running when mine was at its worst. It won't get better if you keep running through the pain. Trust me on this, I tried, and it wasn't until I took some time off that I truly felt better.
2.) Foam roll like it's your job. It hurts, it sucks, but it will help loosen you up. Or, be proactive and use it a few times a week to keep problems at bay. A tennis ball works, too.
3.) Ice. Icing helped alleviate my swelling, especially at first when I was not being smart and was still running.
4.) Massage. I know actual sports massages are expensive, but if you can swing it, do it.
5.) Of course, stretch. A good stretching routine is something you should be doing anyway! (As I look in the mirror and tell myself…)
6.) Use resistance bands
. < —- These are the resistance bands I personally use to help strengthen my hips and glutes to prevent a flare-up from occurring again. They are inexpensive and totally worth it! I use them while I watch TV.
*I have also used this brace for my knee and feel that it did help to an extent for shorter runs.
---
RELATED: Now what? What to do after you run a 5k
This post was about IT band stretches for runners.
QOTD: Have you ever suffered with IT band pain? Do you do IT band stretches? Any other helpful hints you can think of?
Disclosure: This post may contain affiliate links