Have you been to the newly re imagined Senses Spa at Saratoga Springs Resort in Walt Disney World?
I jumped at the chance to check out the redesign. I was lucky to get to visit and get a massage at the spa at the Grand Floridian, so I was curious to see the differences between the two spas and especially curious if any of them had Japanese massage chairs. While they may share the bulk of the same spa menu, one thing they do not share is the same theming and decor. I'm not sure what I was expecting, but I was blown away!
Dark woods, stone, and Native American influences are sprinkled throughout the large space. We saw lots of cool touches like Italian mosaics, hummingbirds, and even hidden Mickeys. The idea here is to look like a 19th century wellness retreat in New York.
I am not going to go into the spa menu as much since I already covered the basics in my last spa post, but I did want to share with you the beauty of this location.
There is a mani/pedi room with the same amazing massage chairs you will find at the Grand Floridian spa.
There are several types of treatment rooms available, all with gorgeous lighting and great touches like hot bar racks to keep your robe warm.
Couples treatment room
The walls have a beautiful texture to them, and I just loved these outdoorsy light fixtures in the hallways.
Can you spot the hummingbird in the relaxation room? This is where you relax and wait before your treatment begins. By the way, these lounge chairs are so soft. I didn't lay down because I knew I would never get back up!
The men's and women's locker rooms have these plunge pools, as well as my favorite heated tiled chairs, just like on the Disney Cruise ships. Unfortunately, they weren't turned on or I would have been taking a quick nap. What a great treat after participating in a runDisney race, huh my fellow runners? Something to think about!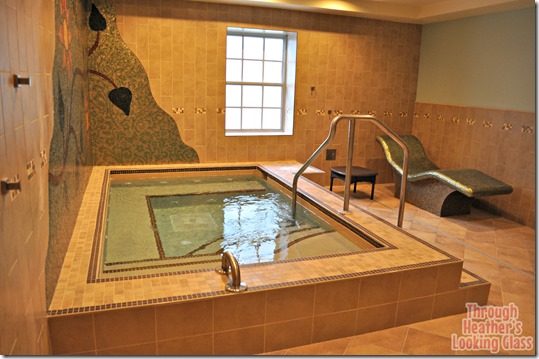 The tiles on the wall were imported from Italy. Check out that hummingbird! Also, can you find the hidden Mickey?
We took a peek into the locker room which resembles the one at the Grand Floridian, and they offer all the same amenities at both locations.
The bathrooms have blow dryers, straighteners, and other items you may need to primp after a relaxing massage or an invigorating facial.
During the tour, I was told about special seasonal offerings that sound so amazing. I really want a pumpkin enzyme facial! Sounds amazing, right?
Be sure to check out their website for details and to make an appointment!
QOTD: What is your favorite spa treatment? Have you been to one of Disney's spas?