Ah, Facebook. Time to chat about this social media platform and my top Facebook tips. If you have a page for your blog, business, store, etc, unfortunately, it has gotten very much pay to play. So if you are trying to sell a product or service, you may need to look into Facebook ads.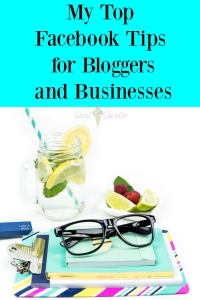 However, never fear, there are still some organic ways to grow your following, which we are going to discuss here. Everything is moving towards video, so it reigns supreme as far as getting visibility and gaining traction on Facebook. There are a couple of ways to do video:
First, you can post a video you have previously filmed/created, by uploading it from your computer. Or, you can do a Facebook Live session, which will then be saved and stored on your page.
When I start talking about Facebook live, some people start to freak out and get nervous. That's OK! I still get nervous when posting things live, but with practice and repetition, I have gotten better. First, try filming yourself talking to the camera and practice what you want to say over and over before hitting that "go live" button. This will help calm you down and make you feel practiced.
Also, make sure when you film a video, live or not, that you have good lighting and background, minimal background noise like cars, music, or pets, and try to position the computer or camera so you aren't looking down at it. It's NOT a flattering angle. I bought a phone extension that holds my iPhone and docks into my tripod for when I'm shooting with my iPhone. 
Also, make sure you interact with your audience if shooting live. If people leave a comment or ask a question be sure to answer!
You can also put links to blog posts or other websites in the comments on your Facebook live. It's a great way to drive traffic.
A good way to get new followers is to target people who are already liking your stuff. Did you know that you can invite people to like your page directly from a post? Simply click the post and click where it shows the number of people that have liked it, and a list will pop up that shows all the likes, and next to it it will either have a button that says "invite" or it will be greyed out saying "invited" or Liked" if that person already likes your page or if you have invited them already but they haven't responded to the request.
Another great idea is to tag other pages in your posts so they will be notified that you tagged them. This is a good way to build relationships with other people in your area of expertise.
Something else I would recommend doing is joining some social media Facebook groups. You will find everything from groups that help promote and share each other's content to groups that give tips and tricks on growing your following. These can be a valuable resource and a great way to make new friends.
In my e-course, we get more in-depth with top Facebook tips, targeting the right followers, and also get into Facebook ads.
QOTD: What are you top facebook tips? 
Disclosure: This post contains affiliate links. However, I would never mention something I wouldn't use myself and don't love. Thanks for supporting THLG!