It's finally time you guys! What I have been promising for months now is finally done, and the doors will soon open for my e-course which is all about making money from home in social media. This course is for you if you want to work form home part time OR full time, learn how to automate work so that you are working SMARTER and not HARDER, and want a better life for you and your family.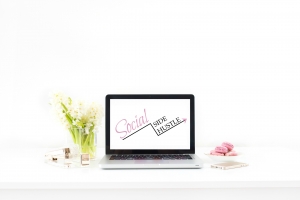 I grew up in a very hard working family. It was instilled in me as a small child that you have to work hard to get what you want in life. While I still believe this to an extent, a lot of us have a tendency to take this a step too far. It hit me one day when I was complaining to my husband. I vividly remember saying to him: "It's just not fair. I work SO HARD but don't seem to be getting anywhere. I work way harder than XYZ, and they are doing so much better than me."
Wow.
So much to digest in that simple sentence.
First I want to point out this isn't a jealously thing, I am truly happy for those who are happy and successful, this was about me being really hard on myself and trying to "earn" my way to success. I thought that the more hours I put in, the more I focused, and the more sacrifices I made, it would all add up to success on my part. I mean, that's the "rule" right?
Wrong.
While this is true for some people, what if I told you that you could be successful WITHOUT working more hours, without killing yourself and wearing yourself down, and without stressing about what to do next?
Work smarter, not harder.
As a social media manager, I have figured out a lot of ways, mostly by experience, research, and the knowledge of others, that have allowed me to work this way. I now spend way less time working than I did when I had a 9-5, but I am making more money, AND I get to work from home. How?
A lot of reasons. Not something I can share in one single blog post. Sure there is front in work, but once your processes are all set up, you can use tools and systems to your advantage and work smarter, not harder.
That's why I created Social Side Hustle. Sure, you could spend years (like I did) spinning your wheels trying to crack the code, and sure, you would eventually figure it out because you are a smart cookie, OR, you could take my course, and learn everything you need to know to work for yourself from home, all in 21 days or less.
I will be sending out emails next week announcing my pre-sale, free webinar, and my launch, so you won't want to miss it! Make sure you are on the list by signing up here, and you will also get a free social media manager checklist.
Get ready to work smarter and not harder!