So i realized I am not very good with this blog thing, nor do I think anyone reads it. I have decided to turn this isnto a running/training blog. Even if no one reads it, it will be good for me to log my workouts, think through some things dealing with my running/training etc.
SO this week was a total bust. i got new shoes, FINALLY as my other ones are a year old and worn completly down. I was having BAD hip pain on my left side on long runs, then it turned into on ALL runs, so I finally got me some Nike vomero 4's. I ran 3 miles in them Monday and it felt really good!…..and then I got sick! So, its saturday night, and I havent run since monday! I was suppsoed to do an 8 mile run today, too sick to do it, so i feel very behind in my training for my half which is in January!!! I have to get a move on here!
so see how sweaty I am in the pic below? That was the Run for the Son 5k in August. I will NEVER run a 5k in hilly downtown Jackson in AUGUST ever ever AGAIN!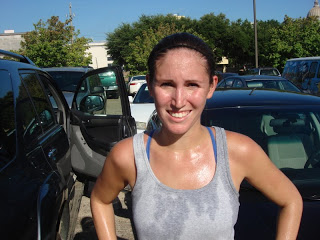 hopefully I will be back to running monday and I can get in a long run next Saturday.