Happy Friday friends, it's almost the weekend! Yall, we are supposed to get SNOW today, here in central Mississippi. Please note that no one here knows how to drive in snow. The low is around 28 so not sure how long it will stick around (pun intended). See what I did there? Anyway, I haven't done a 5 Things Friday in awhile, so figured it was time to bring it back. Don't worry, my runDisney half race recap will be up Monday.
1.) 4 Magical Miles Virtual Run Recap: I participated in the Gone for a RUN 4 Magical Miles virtual race this month, and loved the great cause it supported (Give Kids the World). My run was pretty uneventful, and I was thankful it was only four miles because I have been hitting boot camp hard and my legs are really sore! Having just run the Walt Disney World Half I am still on a bit of a Disney high so it was fun to run a "magic" themed virtual race so soon after coming home. I can't wait to share with you about the next race I will be doing in February!
2.) Enter my Giveaway: Yesterday I posted about a giveaway I am hosting for some adorable Disney park map leggings. Be sure to enter, they are so fun!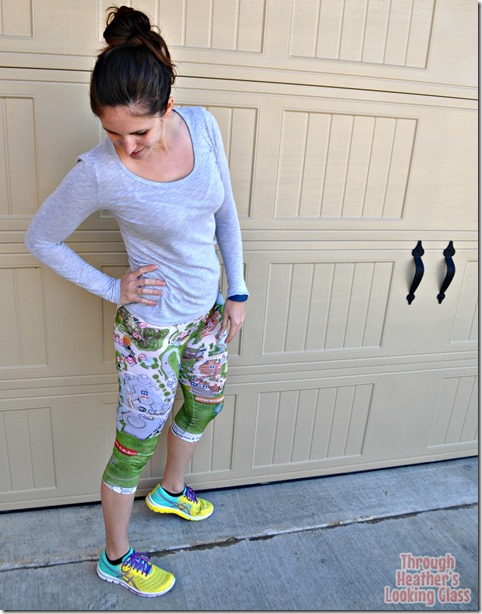 3.) Bath time Life Saver: Poor Emma Kate loves bath time, but HATES when I wash her hair/get water in her eyes. It was getting so bad that she would cry every time I came near her with a cup of water during bath time because she didn't want me to wash her hair. I did some Amazon searching, desperate to try anything, and found this contraption called the Lil Rinser Splashguard
 (affiliate link) that works LIKE A CHARM. Seriously, if you have issues with this like I do, this baby is a lifesaver, and very inexpensive! No more bath tears, and I'm wondering why I didn't think to invent something like this. I want to be on Shark Tank.
4.) HEAT class: Has anyone heard of this or attended one? My gym just started doing this, and I went to a trial class on Wednesday. Basically everyone wears a heart rate monitor and you can see everyone's zones up on the screen, and you have to hold your HR in different zones all through the class, so you work REALLY hard and it's a great workout…and you can't "cheat". Ha. I liked it a lot, but my gym is charging $20 for a drop in rate, and that's just not in my budget right now, so I will be sitting it out, but I'm curious to hear anyone else's thoughts on this type of class?
5.) Carnival Season: This time of year I really miss home. Mardi Gras is such a fun time in Louisiana, and I miss going to parades, seeing the decorations, eating King Cake, and drinking my favorite coffee drink: King Cake Velvet Ice, from PJ's. Fun fact that I'm fairly certain I share every year, but you get to hear it again… but growing up I thought Mardi Gras was a national holiday. Really. It wasn't until I was in about 6th grade that I realized it wasn't and that not everyone got out of school for it! Please note this is before I had internet access and people on Twitter to tell me that I was sadly misinformed. I felt sad for the rest of the world. You really are missing out.
QOTD: Have you ever had king cake? Do you kids hate water in their eyes at bath time?